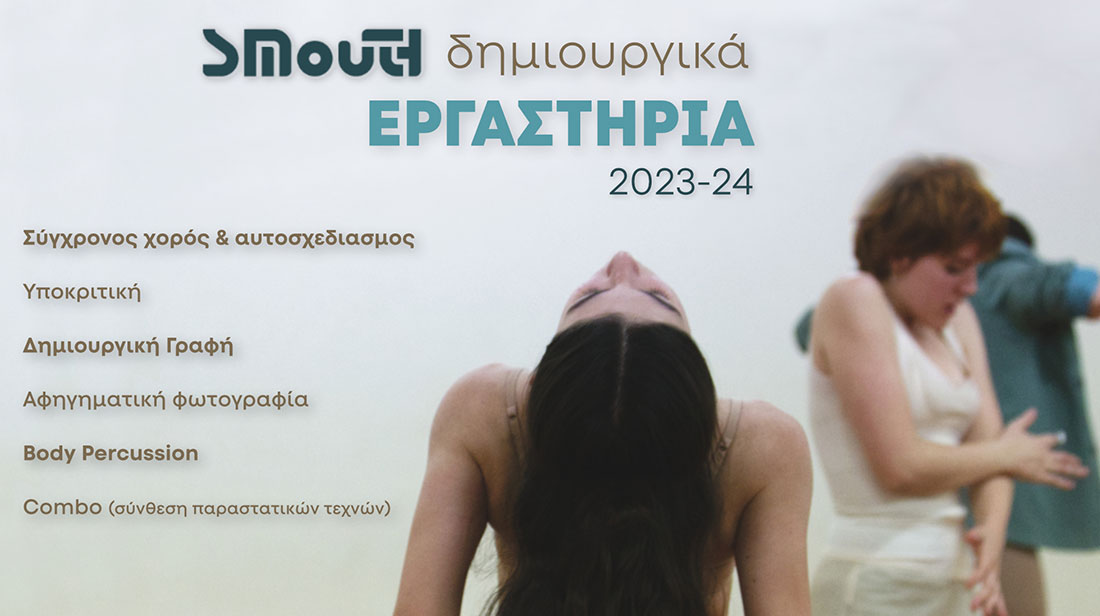 19 Oct

SMouTh CREATIVE WORKSHOPS 2023-2024

Continuing an evolutionary course 10 years now, SMouTh  is calling out the young people of the city to meet and join in the groups of the new educational cycle of creative workshops starting on Saturday, October 21, 2023.

Τhe creative workshops of SMouTh have become an opportunity to meet and create within a group for all those who wish to express themselves through contemporary performing arts. These workshops become the common place of knowledge, spontaneous expression and technique in the face of the challenge of creating an integrated stage work, a modern inclusive and synthetic scenic language, capable of expressing the modern needs and concerns of young people.

All workshops are aimed at young people (over 15) who want to express themselves, create, take part in performances, in educational and artistic activities, but also for those who want to travel with the vehicle of art in Greece and abroad without having any previous experience.

The workshops offered for this year's educational cycle 2023-2024 are in the following fields:
Acting
Contemporary Dance & Improvisation
Body percussion
Narrative Photography
Creative Writing*
* The Creative Writing workshop will start on Tuesday 7/11.
Trainers: Kostas Lamproulis, Despina Bounitsi, Filippos Zoukas, Katerina Bekou, Thanasis Saliabouhos, Athina Manoli, Yiannis Hadjiantoniou
The workshops once again will take place in the main building of Mill of Pappas in collaboration with the Deputy Mayor of Culture and Science of the Municipality of Larissa.
Join our workshops by filling out the relevant online form in SMOUTH'S website (we will get in touch to let you know of the availability)
For any further information, please do not hesitate to contact us on +30 6977783874