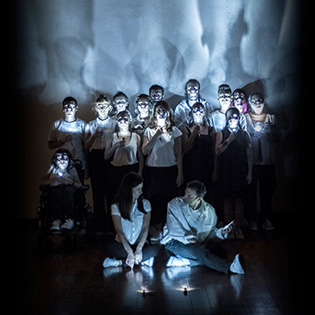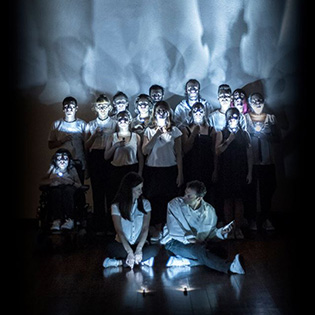 16 Sep

In a Well

A new production by SMouTh, titled In a Well, was presented in the 5th Mill of Performing Arts.

The premiere took place on September 16th, as part of the Regional Companies Meeting, an event co-produced by the Alternative Stage of Greek National Opera and SMouTh. two more performances followed on September 18th and 21st, all of them in the totally full Theatre of Mill.

In a Well  is the artistic product of SMouTh's creative workshops of the 2017-2018 period, texts being written in the creative writing workshop, lyrics written in the music workshop, and all the Combo workshop trainees playing a major role both in the creation and on stage. The play follows a 24-hour route, each hour being the frame of encountering people and their stories, habits, but also their quests, their dreams between light and darkness.

Despina Bounitsi and Thanasis Saliabouchos made the staging, Despina Bounitsi signs the choreography/movement, music was composed by Filippos Zoukas and the lighting and images were made by Giannis Chatziantoniou.