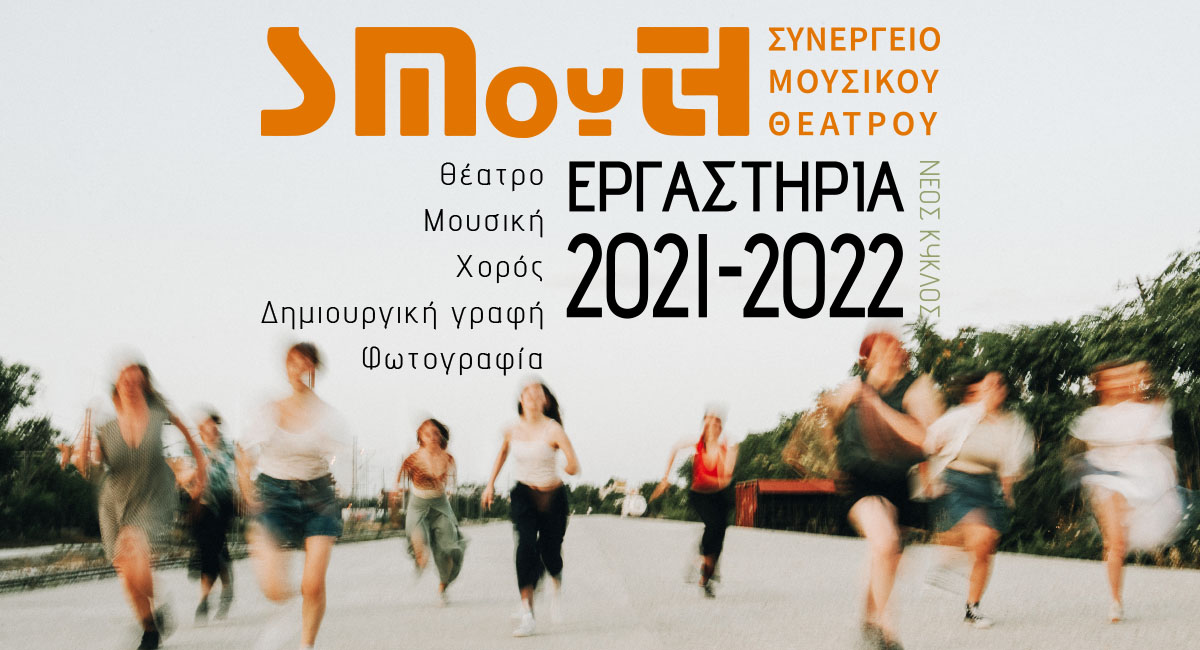 07 Oct

SMouTh Workshops 2021-22

SMouTh workshops 2021-22

Performing Arts: from Composition to Co-creation

Starting date: Monday 11 October 2021

Become a member of our team by filling in the online application form!
For more information call 6943 956171

For those who wish to express themselves through contemporary performing arts, SMouTh's creative workshops are always an opportunity to meet and create within a group. It is the place where spontaneous expression and technique are combined in the face of the challenge of creating a complete stage work but also a modern inclusive and synthetic stage language.

In the previous academic year, the workshop groups experimented with the image and the function of the performing arts through the lens. Building on this valuable experience, this year we are taking another step by setting the goal of creating an original compositional work that will be created alongside the experimental, research experience of the workshops and will bring together the ideas and quests of all the members of our groups.

The workshops are addressed to young people (15 years old and above) who want to express themselves, to create, to take part in performances and in educational and artistic activities, to travel with art in Greece and abroad without any previous experience.
The workshops offered for this year's 2021-2022 training cycle are as follows:
Acting workshop
Dance Workshop
Creative Writing Workshop
Narrative Photography Workshop
Instructors: Costas Lamproulis, Despina Bounitsi, Filippos Zoukas, Thanassis Saliambouchos, Athina Manoli, Giannis Chadziantoniou, Giorgos Gallos, Giorgos Giannotas
The workshops, for one more year, will take place in the main building of Mill of Pappas, in collaboration with the Mayoralty of Culture and Sciences of the Municipality of Larissa, and all the sanitary measures for COVID-19 will be observed.
The entrance to the venue is by showing one of the following:
Vaccination certificate
Certificate of Covid-19 infection
Certificate of a 72-hour negative PCR test or 48-hour rapid-test.
The use of a mask is mandatory!
Acting Workshop
In the Acting workshop, participants are introduced to the rules of structured and spontaneous expressive play and how this is transferred to theatrical performance using body expression, the correct use of speech (orthophony, breathing) and its synthesis with rhythm and music. Trainees work on texts of a variety of dramatic styles and explore the combination of all the individual elements that structure the theatrical role.
Coordinated by:
Giorgos Gallos (musician)
Thanassis Saliambouchos (actor)
Giorgos Giannotas (theatrologist, actor)
Dance Workshop
The workshop aims to develop physical skills and personal movement, making dance a valuable way of expression and communication. Starting from the techniques of contemporary dance and improvisation, we try to integrate in our work the new trends and aspirations of the group, in order to connect dance with life itself and social reality. We want to find ways for our ideas to pass through physical expression, to bring us together and set us free! Particular emphasis is placed on the synthesis of dance with the other performing arts, especially the rhythm and music part that is dynamically and creatively integrated into the movement development process.
Coordinated by :
Philippos Zoukas (musician, music composer)
Athina Manoli (dance teacher)
Despina Bounitsi (dance teacher and theatrologist)
Creative Writing Workshop
The Creative Writing workshop provides simple tools of inspiration that unlock the innate talent of the participants' imagination and through the experiential process develops their ability to express themselves in writing, prose, drama or poetry.
Coordinated by Costas Lamproulis (director – writer)
Narrative Photography Workshop
The workshop is addressed to young people who are attracted by the magic and power of the image and seek to broaden their cognitive and creative horizons on the art and technique of photography, to express themselves through the image and to interact within a group.
Coordinated by Giannis Chatziantoniou (photographer)