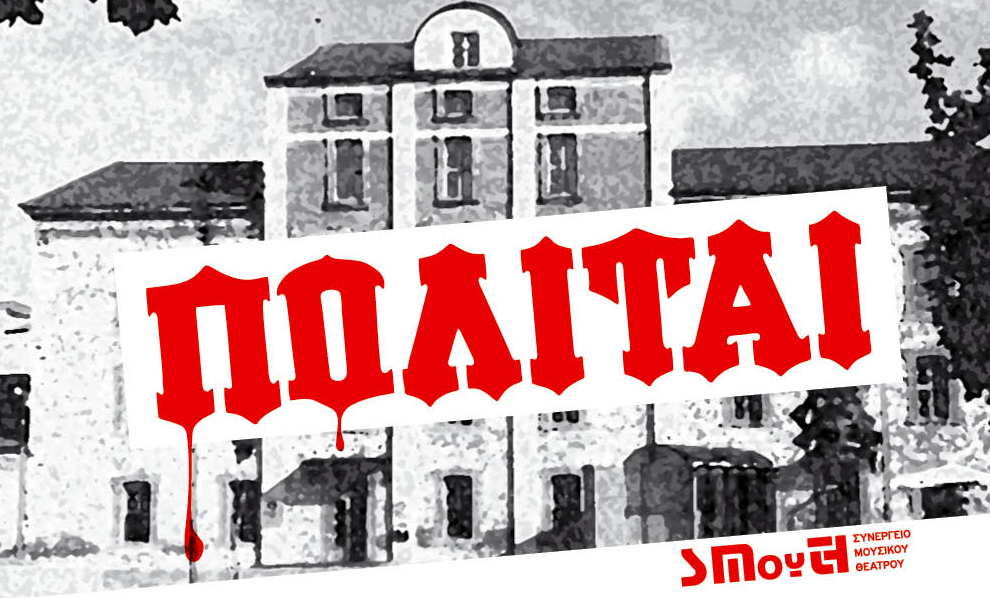 09 Oct

POLITAI 2015

"Over the past decade, mankind has become so poor that the only thing left… is money."

The performance "POLITAI*" is a synthesis of music, dance, theatre and media, an unorthodox performance that seeks the correct spelling in the political and social misspellings of our times. It was first created and produced by SMouTh in 2012, to be represented in empty shops, as an act of commercial transaction.

The renewed and enhanced new version of POLITAI is the result of the creative workshops that SMouTh held during the period 2014-2015 and it is designed in a way that the audience walks through the show which takes place in different areas of the building Mylos Papa.

In 2015, POLITAI had an avant-premier show, in the frame of the "2nd Mill of Performing Arts" festival.

Official Opening: Saturday 10/10/2015 in Mylos Pappa, Larissa.

CREDITS
Texts: creative writing workshop of SMouTh
Concept-Direction: Costas Lamproulis
Choreographer: Despina Bounitsi
Music Coordinator: Filippos Zoukas

Performers and co-authors:

Apostolis Lygdas, Katerina Bekou, Despina Bounitsi, Thanasis Saliampouchos, Christina Gkargkinoudi, Filippos Zoukas, Stefanos Pallas, Eleni Kyprioti, Vaso Farmaki, Ios-Ioanna Desli, Elena Kiratzi, Milena Lamprouli, Haris Loupa, Penelope Brahou, Katerina Bournaka, Maria Iosifidou, Evita Kalantzi, Maria Kaprini, Katerina Katsiani, Konstantina Betchava, Vaso Papaevangelou, Maria Saliampouchou, Ivi Samara, Olia Sarimpalidou, Periclis Chastalis
*The title "POLITAI" is a word play: Politai (πολίται in Greek) means citizens. But, even though the spelling is right in archaic Greek, the way it is written refers to the usual sign "FOR SALE"!